Announced: augmented-reality system for Oil and Gas companies
May 9, 2018 | Views : 4351
Meemim, the vendor of the award-winning augmented-reality visualization platform vGIS, has announced the development of a visualization system designed for oil and gas companies.
The new product, dubbed "vGIS Exploration", is designed to visualize geology and well structures in conjunction with near-real-time 3D holograms of drilling, production and seismic and other events. Using the latest in holographic visualization technology, the upcoming system would allow decision makers to "see" complex spatial data in the most natural way possible—as 3D holograms hovering directly in front of them.
"Exploration and mining companies have long understood the value of 3D visuals," says Alec Pestov, the CEO of Meemim. "Regardless of the training level and acumen of geologists and engineers, there is no substitute for 3D representation. Oil majors have invested vast sums in creating purpose-built 3D visualization tools just so their employees could make better decisions when working with geological data. Our system is expected to deliver better results at a fraction of the cost, making such technology available to exploration and mining companies of all sizes."
Meemim is joining forces with Gulfport Energy, a leading oil and gas exploration company. Gulfport Energy is recognized in the industry for spearheading the innovation and adoption of technology. The Gulfport–Meemim project team's unique blend of deep industry knowledge and visualization expertise underpins the project's focus: creating a cost-effective, industry-wide solution that helps companies make better everyday decisions.
vGIS Exploration brings together several technologies—Esri GIS, Microsoft Azure and Microsoft Mixed Reality—to provide a highly scalable system that runs on the state-of-the-art Microsoft HoloLens holographic headset.
Esri ArcGIS is the leading GIS solution, widely deployed within the Oil and Gas industry. The tight integration of vGIS with the Esri back-end ensures the standardization of spatial datasets, substantially reducing the up-front costs of the vGIS solution and magnifying the investments that oil and gas companies have already made in organizing GIS data. Microsoft Azure is the top cloud-computing service and guarantees fast, scalable and reliable operations.
Powered by Esri GIS, Microsoft Azure, and vGIS, the resulting solution is expected to require minimal configuration and implementation time. This is a sharp departure from projects of the past, for which such an initiative required months and substantial up-front investments to complete. At the same time, the flexibility of the vGIS platform allows for easy customizations so that the solution can be adapted for the individual needs of future clients.
In addition to advanced visualization, vGIS Exploration will offer a new kind of conferencing solution. The forthcoming system will let multiple users at multiple locations review the same holographic objects in a conference format, thus connecting teams and individuals within the organization in a completely new way.
"We ran a limited preview of the system concept, and the initial reaction was a sense of disbelief; industry experts were blown away by the system's potential and the possibilities it opens up," continues Pestov. "This is highly encouraging. We are very pleased with the solid support from our partners—Gulfport, Esri and Microsoft—and look forward to unveiling the system during the upcoming Esri User Conference in San Diego in June 2018."
To learn more about the upcoming system, contact the vGIS Team at info@vgis.io.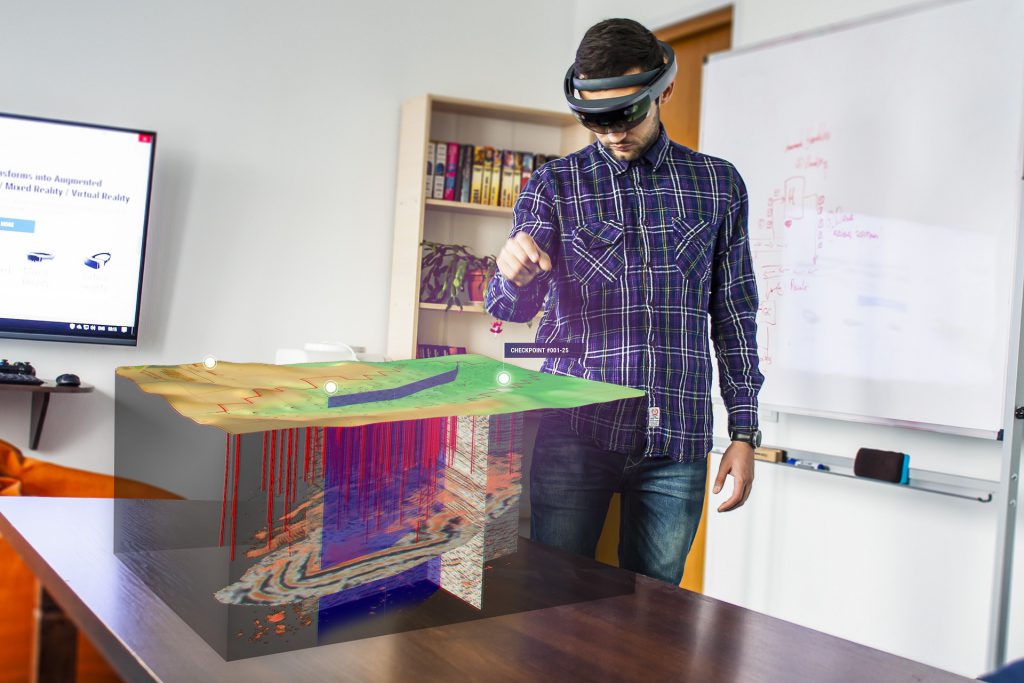 About Gulfport Energy
Gulfport Energy is an independent natural gas and oil company focused on the exploration and development of natural gas and oil properties in North America; it is one of the largest producers of natural gas in the contiguous United States. Headquartered in Oklahoma City, Gulfport holds significant acreage positions in the Utica Shale of Eastern Ohio and the SCOOP Woodford and SCOOP Springer plays in Oklahoma. In addition, Gulfport holds an acreage position along the Louisiana Gulf Coast, as well as in the Alberta Oil Sands in Canada through its 25% interest in Grizzly Oil Sands ULC. Also, it has an approximately 25% equity interest in Mammoth Energy Services, Inc. (NASDAQ: TUSK). For more information, please visit www.gulfportenergy.com. 
About Meemim Inc.
Meemim Inc. (Toronto, ON) is a software vendor with expertise in designing visualization solutions using spatially referenced data. The Meemim product portfolio includes the critically acclaimed vGIS Utilities system, which pioneered holographic GIS visualizations of utilities infrastructure and objects, as well as the client customer service portal and the Meemim collaboration productivity suite for project management and small-team collaboration. For more information, please visit www.vGIS.io.