vGIS Recognized as a Winner of 2023 Esri's Innovation Award 
Mar 5, 2023 | Views : 1740
March 06, 2023 – vGIS Inc. received the Esri's Innovation Award at the 2023 Esri Partner Conference (EPC) held in Palm Springs, California March 4–6, 2023. This award was presented to vGIS for Use of ArcGIS system in an innovative or disruptive way.
vGIS Inc. is honored to be among a global field of top Esri partners that have demonstrated excellence in the innovation and implementation of customer solutions based on ArcGIS technology.
Esri is the global leader in location intelligence with a network of over 2800 partners around the world. The award winners are organizations that have demonstrated innovative and creative ways to solve complex problems by using Esri's ArcGIS software and those who have done exceptional work in advancing geographic information system (GIS) technology. vGIS was one of 27 Esri partners that received an achievement award at the conference.  
"Esri congratulates vGIS on their 2023 EPC award in recognition of their innovative work leveraging ArcGIS software," said Robert Laudati, Director of Global Partners and Alliances at Esri. "We are proud to partner with vGIS to foster the use of Esri technology in support of our mutual customers."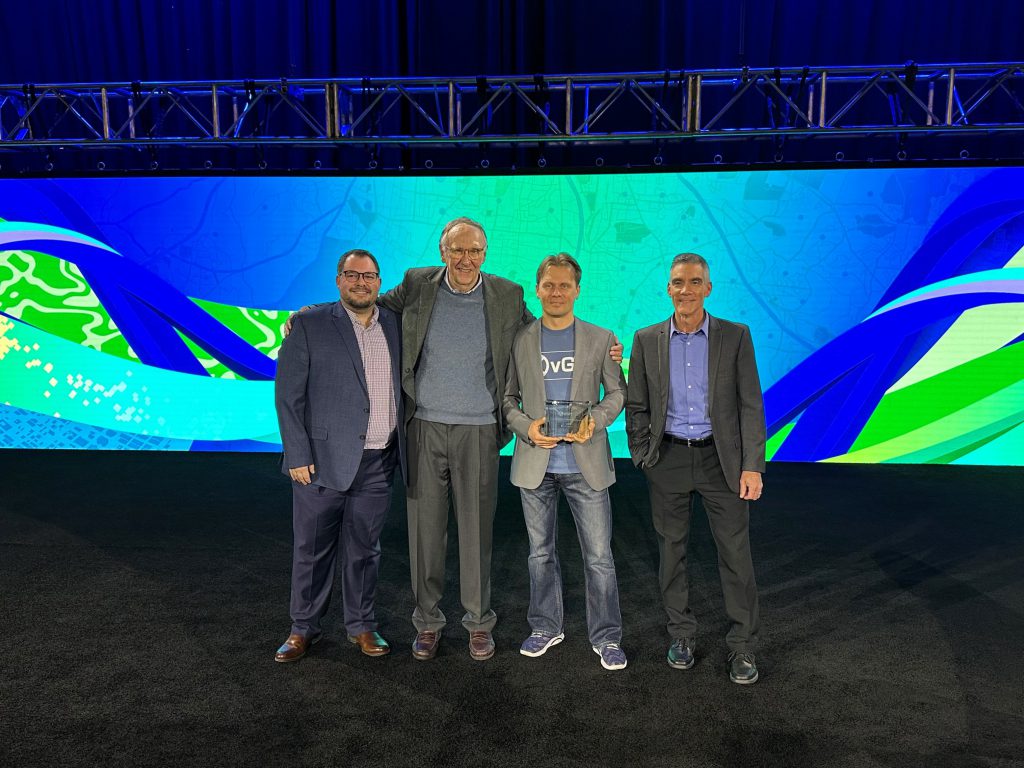 "In a world that is increasingly interconnected, the importance of a partner cannot be overstated," said Alec Pestov, CEO at vGIS. "We are thrilled to work with Esri and be recognized by Esri for our work with the ArcGIS ecosystem. Our collaboration paves the way for shared growth, and are looking forward to further strengthening our partnership in the future."
About Esri
Esri, the global market leader in geographic information system (GIS) software, location intelligence, and mapping, helps customers unlock the full potential of data to improve operational and business results. Founded in 1969 in Redlands, California, USA, Esri software is deployed in more than 350,000 organizations globally and in over 200,000 institutions in the Americas, Asia and the Pacific, Europe, Africa, and the Middle East, including Fortune 500 companies, government agencies, nonprofits, and universities. Esri has regional offices, international distributors, and partners providing local support in over 100 countries on six continents. With its pioneering commitment to geospatial information technology, Esri engineers the most innovative solutions for digital transformation, the Internet of Things (IoT), and advanced analytics. Visit us at esri.com.
About vGIS
vGIS is designed for AEC companies, public utilities, municipalities, and service providers to aggregate and seamlessly convert 2D GIS, 3D BIM and Reality Capture data from Autodesk BIM360, Bentley iTwin, Esri ArcGIS, and other formats into powerful, accurate, and stable 3D visuals.