Augmented reality for utilities surges ahead: Toronto Water pilots holographic GIS
Jan 24, 2018 | Views : 5790
Toronto Water, a large utility serving over 3M people, has commenced field trials of vGIS, the holographic GIS system designed for municipalities and utilities. Toronto Water expects to increase the productivity and safety of its field workforce by equipping it with augmented reality tools to help manage underground infrastructure.
Toronto Water will use Meemim vGIS, the most comprehensive visualization system for GIS. The system uses mobile devices or Microsoft HoloLens with Microsoft Azure cloud services and Esri ArcGIS software to convey real-time, in-the-field holographic visualizations of serviceable objects—such as above-ground and underground pipes, cables, or valves—and their supporting information. Meemim vGIS features highly accurate and stable infrastructure visuals, real-time holographic 3D maps, and collaboration tools.
"Toronto Water constantly evaluates technologies that increases productivity, accuracy and safety. The value of the vGIS system in the utilities space is self-evident. We're using the pilot project to quantify the system's benefits and prepare for broader system deployment."  – Arash Farajian, Business Support Coordinator, Director's Office at Toronto Water.
The vGIS platform combines client-provided GIS data from Esri ArcGIS with third-party information from multiple sources to create stable, accurate holographic and augmented-reality projections. vGIS works on multiple devices—from phones and tablets to the futuristic Microsoft HoloLens. It features a patent-pending calibration process that allows high-precision locational and lateral accuracy to be established within seconds. The system is compatible with the upcoming Esri AR/VR Runtime, giving additional deployment flexibility to its users.
The holographic system, expected to increase workers' speed and safety, provides instant access to dashboards and information in a display comparable to those seen in sci-fi movies such as Iron Man. Mixed-reality headsets will be used in conjunction with the tools currently employed by Toronto Water to ensure accuracy and compliance.
vGIS can contribute to improvements in GIS data quality by capturing discrepancies between GIS data and actual infrastructure. The system allows the locator to identify issues and submit a record correction report in seconds.
"vGIS has revealed a number of GIS data issues that we didn't realize we had," says Farajian. "Our goal is to use this opportunity to clean up and update our GIS data."
Toronto Water and vGIS are planning for a broader technology roll-out once the pilot project concludes.
"We see enormous potential for vGIS to improve field personnel's productivity and safety. We look forward to the day when vGIS is in everyone's hands."  – Alec Pestov, CEO of Meemim.
To learn more about the holographic location technology or to book a demo, contact vGIS Sales at sales@vgis.io, or visit our website at www.vgis.io.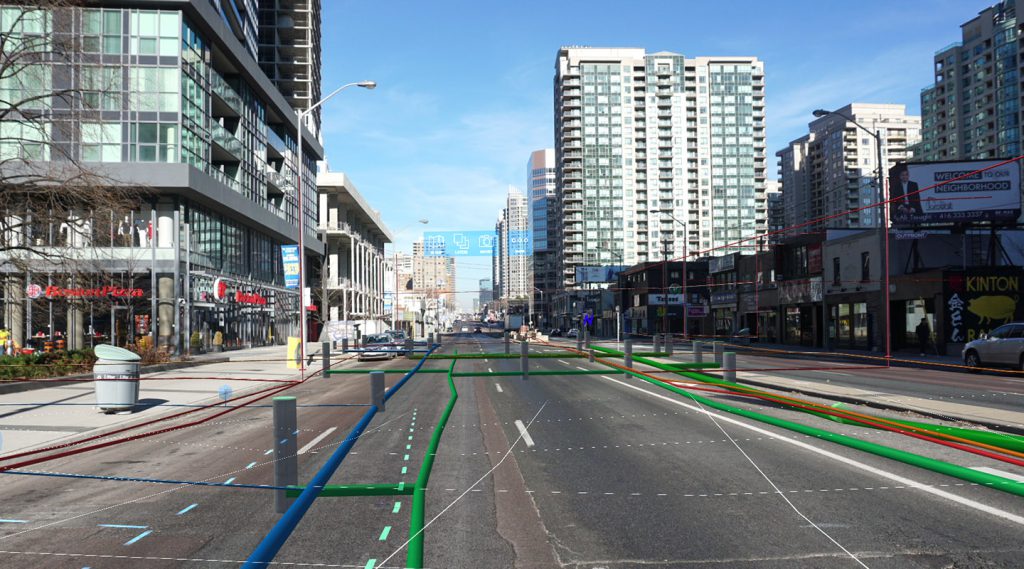 About Toronto Water
Toronto Water delivers safe drinking water, collects and treats wastewater and provides stormwater management services. It provides safe drinking water for approximately 3.4 million residents and businesses in Toronto and portions of York Region. Toronto Water manages $28.3 billion in water and wastewater assets.
About Meemim Inc.
Meemim Inc. (Toronto, ON) is the vGIS software vendor with expertise in data presentation and visualization. In addition to vGIS, current applications include client customer service portals and the Meemim collaboration productivity suite for project management and small-team collaboration.